Hong Kong Applied Science and Technology Research Institute (ASTRI) participated in the CES Asia 2017 from 7-9 June in Shanghai. At the exhibition, ASTRI successfully showcased its advanced intelligent projection technologies, receiving a lot of positive feedback from the industry.
ASTRI teamed up with Delphi to showcase Augmented Reality head-up display (AR HUD). The AR HUD is a windshield-type laser holographic HUD that projects virtual images on the driver's line of sight of the road. It yields high-contrast and high-resolution display with AR features. In addition to AR HUD, ASTRI performed live demonstration on various intelligent projection technologies, including eye gaze tracking system, 2D laser holographic projection module, field of view (FOV) 60o head-mounted Display (HMD), and liquid crystal on silicon (LCoS) panel. Details of these technologies are available here.
CES Asia was organised by Consumer Technology Association (CTA)™ and co-produced by Shanghai Intex. It is a premier event for the consumer technology industry to showcase the full breadth and depth of the innovation value-chain in the Asian marketplace. More than 450 exhibitors from 22 countries and territories gathered at the event to showcase ground-breaking technologies and products.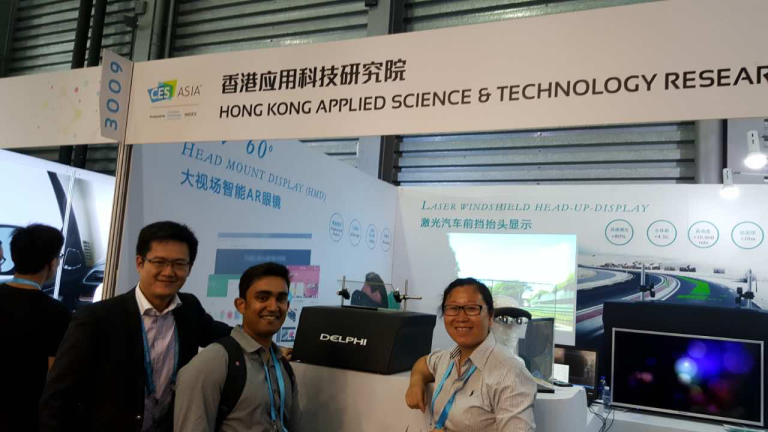 ASTRI showcases several advanced intelligent projection technologies at CES Asia 2017
Visitor expresses interest in the technologies developed by ASTRI