[Hong Kong, 17 August, 2023] The Hong Kong Applied Science and Technology Research Institute (ASTRI) will conclude its "Summer Internship Programme" and "Fintech Future Leader Academy (Internship)" tomorrow (18 August). Nearly 100 students from renowned universities in Hong Kong, mainland China, and overseas emerged from 3,000 applicants and completed the 8-week internship.
Summer Internship Programmes is one of ASTRI's key talent development initiatives, aiming to give students an insight into the development of Hong Kong's I&T ecosystem and foster their interest in pursuing a career in the I&T industry, providing an endless supply of research talents. This year's interns were assigned to various departments to participate in R&D under the guidance of experienced researchers. They also attended several 'Tech Talk' and networking events to connect with industry experts from large enterprises and organisations. In addition, interns from the "Future FinTech Leaders Academy" visited several world-renowned financial and technology institutions, including Bank of China Hong Kong, Cyberport, Hewlett Packard Enterprise (HPE), Hong Kong Monetary Authority, IBM, Microsoft Hong Kong, and Hong Kong Science Park Corporation to gain a more comprehensive understanding of FinTech development in Hong Kong.
During their internship in ASTRI, interns had the opportunity to experience a diverse working environment and interact with students from different backgrounds and professions. Some foreign students, visiting Hong Kong for the first time, expressed their interest in understanding the opportunities for I&T development in Hong Kong. At the Graduates' sharing session, numerous interns shared that they will consider developing their careers in Hong Kong after graduation as they are captivated by Hong Kong's distinctive role as a facilitator for technology transfer between mainland China and overseas, as well as the R&D environment and living quality. Students studying in mainland China, recognising the golden opportunity for development in the Greater Bay Area, are eager to learn more about Hong Kong's R&D advancement, particularly in the fields of FinTech and ESG, so as to contribute to the integration of technology between the two regions in the future.
Dr. Denis Yip, Chief Executive Officer of ASTRI, said: "ASTRI attaches great importance to talent development, which should start as early as possible. Our Summer Internship Programme helps students explore their future career development through hands-on experience and provides our researchers with valuable cross-cultural exchange experiences. This year, ASTRI's internship opportunities were highly competitive, with an acceptance rate of only 3%. Among the interns, 20% came from local and mainland universities, over 40% from the UK, nearly 30% from the US, and others from the Asia-Pacific region, proving that Hong Kong remains the city of choice for students considering long-term career development. We are thrilled that some interns decided to continue their R&D careers and pursue further studies in Hong Kong after completing the internship. By encouraging more young talents to discover the potential for I&T development in Hong Kong through our Summer Internship Programmes each year, we can support the expansion of the I&T talent pool, transforming Hong Kong into a better smart city.
About ASTRI's Summer Internship Programmes
To cope with the thriving development of the I&T industry in the future, ASTRI's "Summer Internship Programme" and "FinTech Future Leaders Academy (Internship)" received nearly 3,000 applications this year. The number of interns was doubled as a result of recruitment efforts at universities in Hong Kong, mainland China, and overseas. ASTRI. Interviews were conducted to select 90 candidates for up to 8-week internship at ASTRI from June to August, including students from world-renowned universities such as the National University of Singapore, Australian National University, Durham University, Imperial College London, the University of Oxford, University College London, University of Chicago, Columbia University and University of California in the UK and the US, as well as universities in the Greater Bay Area("GBA") including four local universities (The Chinese University of Hong Kong (CUHK), The Hong Kong Polytechnic University, Hong Kong University of Science and Technology (HKUST), The University of Hong Kong), CUHK-Shenzhen, Beijing Normal University & Hong Kong Baptist University United International College and HKUST-Guangzhou in Mainland China. The interns are primarily engaged in STEM disciplines, though some non-STEM students are hoping to understand emerging industries such as ecosystem development and technology transfer through working at research institutions. The majority of interns focus on STEM disciplines, though there are also non-STEM students who work in other corporate functions.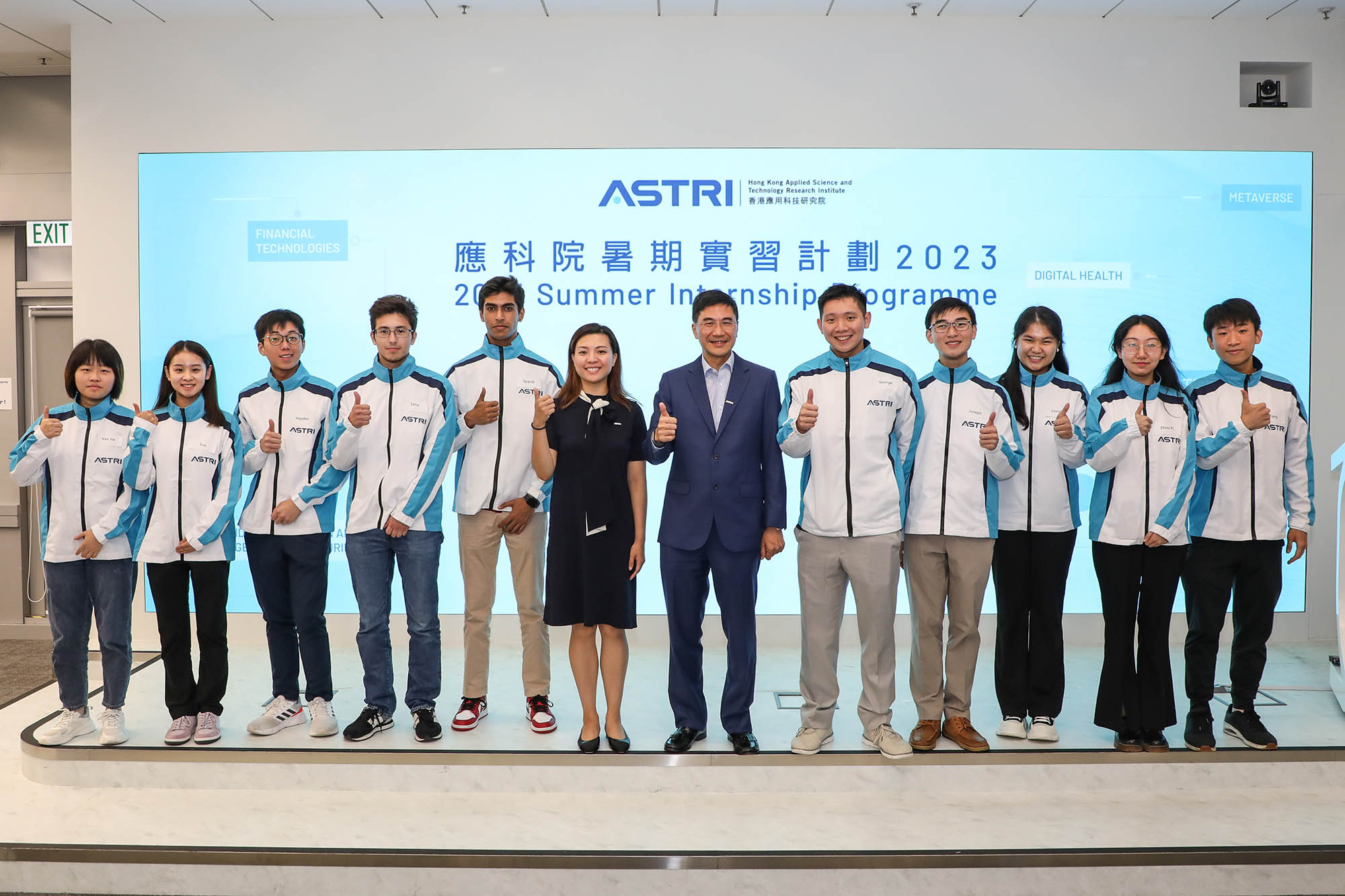 Dr. Denis Yip, Chief Executive Officer of ASTRI (sixth right), Ms. Jennie Wong, Director of Staff (sixth left) and ten representatives of summer interns met with the media at the Graduates' Sharing event.